Stratton Superstars and a summer of events, raising money for CHYP and other local charities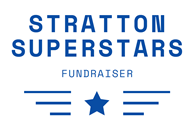 Last year the Stratton Superstars raised over £20,000 for local charitable or voluntary organisations, including educational settings, grassroots sports clubs, homeless charities and food banks (all in Cirencester). This year we are aiming for £25,000 and have a new set of challenges! These are:
April: Complete 250,000 steps over the month
May: Run 31 miles in May (you can do it all at once or staggered through the month!)
June: Race night at Stratton House Hotel on 18th June at 7pm
July: Zumba with Meryl at Baunton Lane Playing Fields on 2nd July from 10am – 12pm
September: Fun run, starting and finishing at Stratton House Hotel, followed by a BBQ and drinks
We will again be supporting a number of vital local organisations who play a key part in the community. This includes Stratton Youth FC, Stratton Playgroup, local schools, Cirencester Housing for Young People (CHYP) as well as various sports clubs and food banks. Every penny raised will help services that make a huge difference to local people.
To get involved, please go to www.strattonsuperstars.co.uk where you can register to take place or make a donation. I will be sending out regular updates on our progress and a reminder of the activities. Please note that we are capped on numbers for both the race night and the Zumba event so, if you are interested in either of these, please register asap as we do expect them to be full very quickly.